Oakland Real Estate
Interested in
homes for sale in Oakland, CA
? In the Sequoyah-Chabot neighborhood, many homeowners enjoy large lots that border the East Bay Regional Park and the Lake Chabot Golf Course. Montclair's homes are situated on forested lots that offer a quiet retreat from the city. Temescal is an up-and-coming neighborhood along bustling Telegraph Avenue, with the feel of an urban village. In Jack London Square near the waterfront, old warehouses and former factories have been converted to loft living. Lakeshore-Upper Grand, with its mix of shopping, restaurants, antique stores, and a farmers market, is one of Oakland's most eclectic neighborhoods. For those who live in Claremont, the Elmwood Shopping District offers a variety of old-fashioned shops and a mixture of merchants.
It's easy to enjoy a wide variety of year-round outdoor activities in Oakland. Lake Merritt, located in the heart of the city, offers a 3.4-mile walking path, picnicking, sailing, and kayaking. Redwood and Joaquin Regional Parks encompass stately forests of 150-foot coast redwoods and provide miles of hiking, jogging, and horseback-riding trails. Anthony Chabot Regional Park offers golfing, an equestrian center, hiking, bicycling, and fishing. For sports fans, Oakland is home to the Oakland Raiders, Oakland Athletics, Golden State Warriors, and the Golden Gate Fields racetrack.
Oakland residents have plenty of public transportation options, including Bay Area Rapid Transit (BART), buses, ferries, and casual carpools. Oakland International Airport is serviced by more than 10 major airlines.
If you are interested in buying or selling a house in Oakland, CA, be sure to check out our exclusive
luxury homes for sale in Oakland
listings. To stay updated on the latest Oakland real estate trends, please contact The Motely Team today!
Main Oakland Areas
Montclair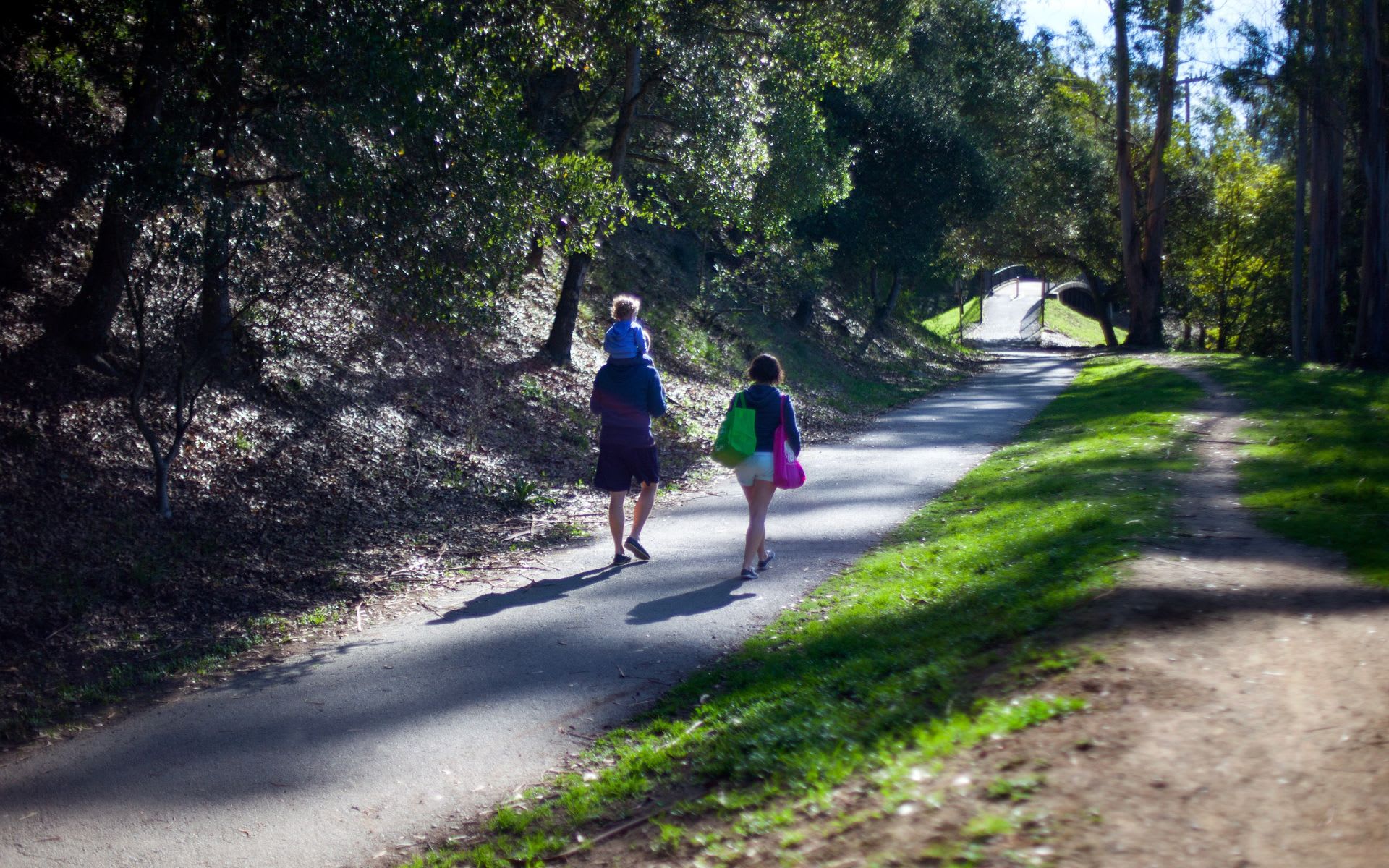 Tucked away in the wooded hills and winding streets above Oakland, Montclair is a small community with an appealing central shopping district. Sizable custom homes, along with a mix of Mediterranean, Craftsman, and contemporary-style homes are situated on forested lots, offering an elegant retreat from the city. Browse our selection of Montclair homes for sale now.
The Montclair Business District is a throwback to a simpler time before strip malls, megamalls, and big-box stores. Residents can find everything they need, from dry cleaning and groceries to restaurants. Local restaurant favorites include the Montclair Egg Shop, Flipper's Gourmet Burgers, and Crogan's Montclair Restaurant. Gourmet specialty items are available at A.G. Ferrari, Le Bonbon, and Farmstead Wine and Cheese. A farmers' market on Sundays provides fresh local produce and baked goods. Montclair is home to fine-arts festivals throughout the year, and a jazz festival in the late summer that enlivens the street scene.
Claremont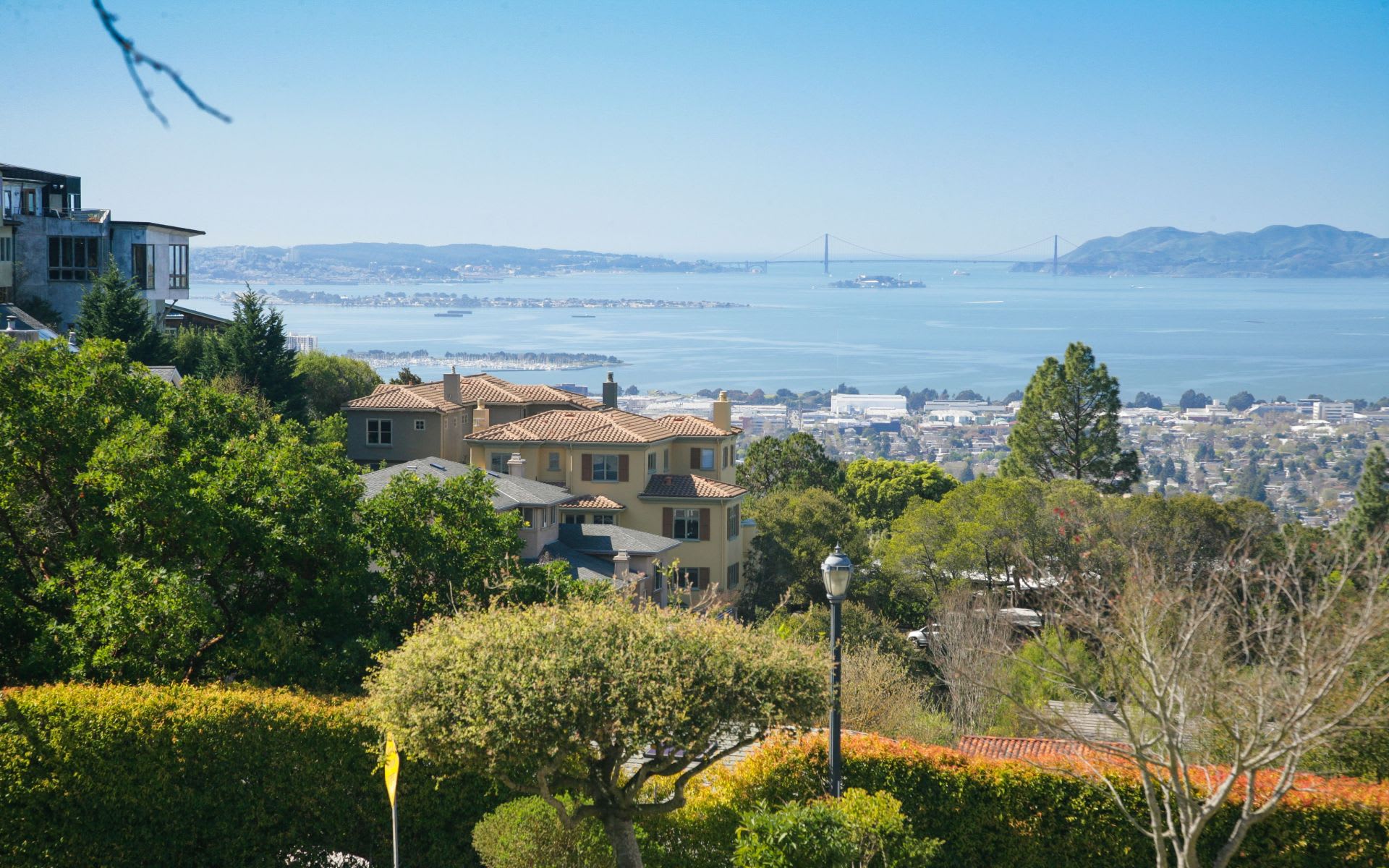 The Claremont neighborhood straddles the Berkeley and Oakland border and features lush landscaping, curving streets that hug the canyon hills, and open space. Homes on the leafy side streets provide old-fashioned Berkeley elegance, with turn-of-the-century brown shingles, revivals, prairie-, custom contemporary-, and Tudor-styled structures offering residents a place to call home within the landscaped confines. Browse our selection of Claremont homes for sale.
The landmark of this area is the majestic Claremont Hotel Club & Spa, a vast Victorian edifice perched on 22 acres in the hills. Three outdoor pools, 10 tennis courts, a full-service spa, a fitness club, and three onsite restaurants deliver stunning views, and the resort has become popular with generations of locals as a luxurious getaway.
Elmwood's shopping district on College Avenue in Berkeley offers old-fashioned shops, access to the Rockridge Bay Area Rapid Transit (BART), grocery stores, bookshops, and flower stands. Restaurants, a movie theater, and a bakery are all a short walk away.
The Claremont Canyon Regional Preserve consists of 208 acres of open space, managed by the East Bay Regional Park District. More than 200 acres outside of the canyon are owned by the University of California, Berkeley. Garber Park, a 13-acre oak-and-bay-tree woodland south of Claremont Avenue, is owned by the City of Oakland. Trails reward ambitious hikers with panoramic views of San Francisco Bay.
North Oakland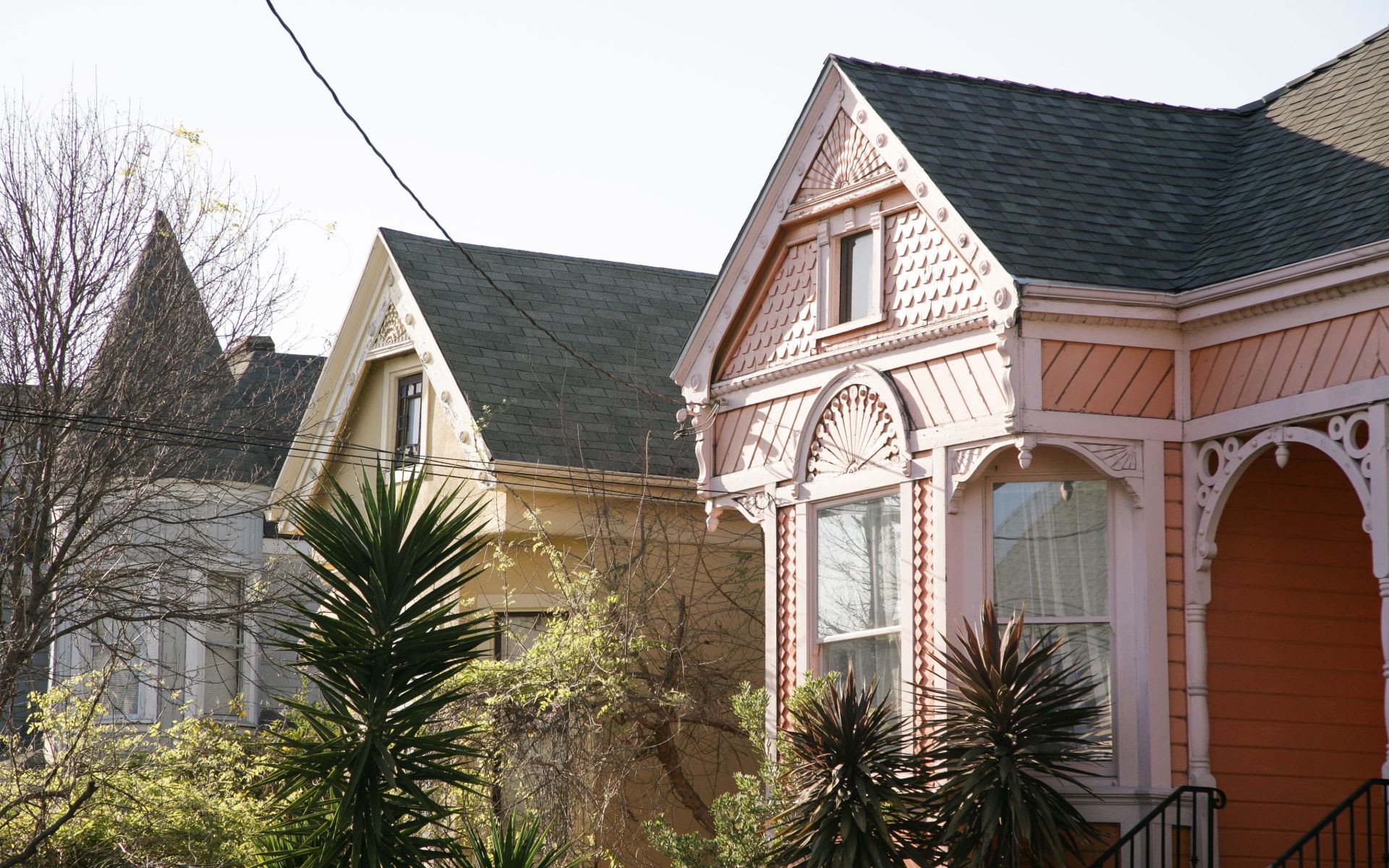 North Oakland is bounded by State Route 24 to the south, Martin Luther Jr. Way to the east, 66th Street to the north, and Telegraph Avenue to the east. Most businesses in the neighborhood, including cafes and restaurants, are on Shattuck Avenue or Alcatraz Avenue, North Oakland's primary thoroughfares. However, the neighborhood is primarily residential, with Craftsman being a dominant architectural style. Browse our selection of North Oakland homes for sale.
Neighborhood residents who commute to San Francisco are a relatively short walk away from either the Ashby or MacArthur Bay Area Rapid Transit (BART) stations. Parts of North Oakland are also within walking distance of the vibrant Rockridge and Temescal shopping districts.
Adams Point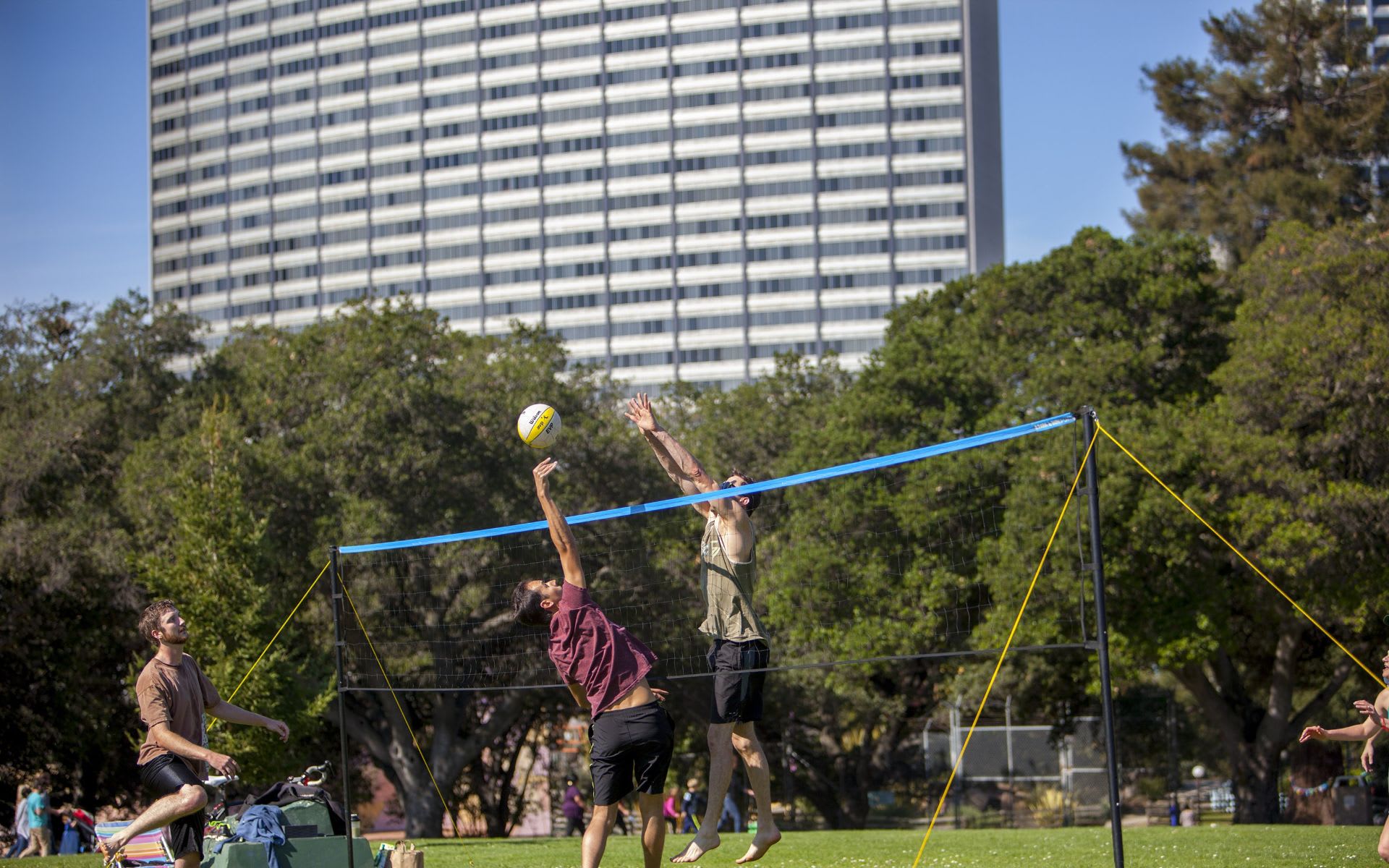 On the shores of Lake Merritt (the "Jewel of Oakland"), Adams Point is tucked between the Uptown Oakland and Grand Lake neighborhoods. Home to condominium buildings and single-family homes, Adams Point is a densely populated enclave. Two architectural gems, The Bellevue-Staten, and the Beaux-Arts-styled Regillus building boast amazing views of the lake. Browse our selection of Adams Point homes for sale.
Urban boating is available courtesy of the Lake Merritt Boating Center, which offers sailing classes; rents kayaks, canoes, and sailboats; and allows you to bring your own boat for a small fee. Nearby Lakeside Park includes Children's Fairyland, a storybook theme park that has delighted generations of kids and served as a model for Disneyland Park. The three-mile pathway around the lake hosts hundreds of runners and walkers each day.
Adams Point is a short stroll from the 19th Street Bay Area Rapid Transit (BART) station and Uptown Oakland, home to the Paramount Theater, the Fox Theater, and numerous bars and restaurants. Grand Avenue, which runs along the neighborhood's southern border, also offers plenty of dining options — including Sidebar, Coach Sushi, and Barlago Italian Kitchen.
Oakmore
Built-in the 1920s and '30s, Oakmore was one of the earliest residential parks developed in Oakland. The residents in this neighborhood above Dimond Park once took the Key System streetcar to work in downtown Oakland and San Francisco. Homes range from large, stately Mediterranean to Spanish and contemporary homes set along winding streets, many with terraced gardens and views of the bay. Browse our selection of Oakmore homes for sale.
Oakmore is almost exclusively residential, but the Glenview, Dimond, and Montclair business districts are not far away. Dimond Park Recreation Center, Dimond Canyon Park, and the city-owned Montclair Golf Course border Oakmore, providing plenty of open space.
Crocker Highlands

Crocker Highlands, once known for reliance on Key Line of electric trains, offers elegant examples of Tudor, Spanish, Arts and Crafts, Beaux-Arts, and Art Deco period homes dating back to the 1920s. Notable homes were designed by architects Julia Morgan and Bernard Maybeck. Tree-lined streets and authentic street lamps from the 1920s are laid out along the rolling hills and frame spacious, manicured lawns in a neighborhood reminiscent of English garden suburbs. Browse our selection of Crocker Highlands homes for sale.
Crocker Highlands is conveniently located near Interstate 580, and AC Transit bus lines serve the neighborhood. Residents can access parks, shops, and restaurants in the nearby Lakeshore, Grand Lake, and Glenview neighborhoods.
Piedmont Avenue

Just west of the small city of Piedmont, Oakland's Piedmont Avenue is a lively shopping district, with boutiques and stores that range from the trendy to the traditional. Browse our selection of Piedmont Avenue homes for sale. Neighborhood stalwart Fentons Creamery & Restaurant has been doing business on Piedmont Avenue for more than 50 years, offering its famous ice cream, burgers, and other savory treats. Restaurants Dopo, Addesso, and Michelin-starred Commis call Piedmont Avenue home. The Piedmont Theatre is the oldest movie house operating in Oakland screens first-run and independent films. Interstate 580 forms the neighborhood's southern border, convenient for those who drive to work. An AC Transit bus line offers Transbay service to San Francisco during peak weekday commute hours, and the MacArthur Bay Area Rapid Transit (BART) is about a mile away.
Downtown Berkeley

The intersection of MacArthur Boulevard and Fruitvale Avenue is the heart of Oakland's Dimond neighborhood, one of the city's most up-and-coming enclaves. Browse our selection of Dimond homes for sale.
The walkable neighborhood boasts several major banks, two major grocery stores, a pharmacy, and various mom-and-pop businesses. Families appreciate a branch of the Oakland Public Library (closed for remodeling from December 2016 to May 2017), as well as the Dimond Park and Dimond Recreation Center. The Dimond Improvement Association (DIA) is committed to making the tight-knit neighborhood "a vital, safe, and beautiful place" for its residents, and plans community events, including the annual Oktober festival.
Interstate 580 forms the neighborhood's southern border, a convenient perk for commuters. Those who prefer public transportation can use AC Transit's NL bus line, which runs down MacArthur Boulevard and offers Transbay service to downtown San Francisco on both weekdays and weekends.
Piedmont Side of Montclair

The Piedmont Side of Montclair sits in the East Bay Hills, with its boundaries being Moraga Avenue to the north, state Route 13 to the east, the Piedmont border to the west, and Park Boulevard to the south. Neighborhood homes are large, single-family structures, set on heavily forested hills and winding streets. Colonial, Mediterranean, and traditional homes stretch on large plots of land. Browse our selection of Piedmont Side of Montclair homes for sale.
The Piedmont Side of Montclair is considered to be a historic region. Prior to the Spanish Mission era, the Huchiun and Jalquin Native American tribes populated the area. The community is part of the land granted to Luis Maria Peralta that spanned El Cerrito to San Leandro, later divided among his sons.
Montclair Village is the community's closest shopping district, with a farmers market, boutique stores, a supermarket, and many dining options. For more information, visit our Piedmont Side of Montclair real estate market conditions page.
Downtown Oakland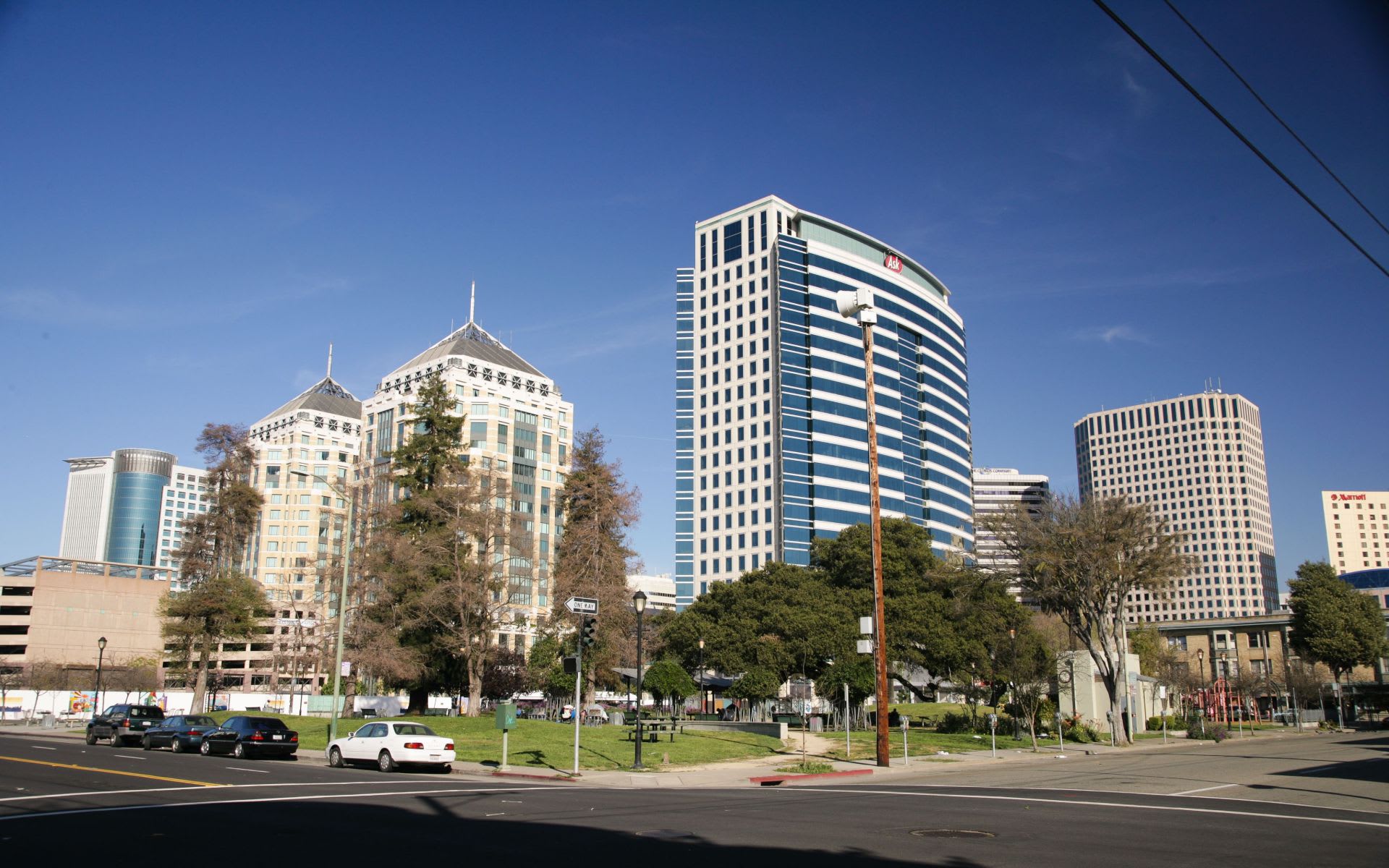 Downtown Oakland is home to the skyscrapers of giant health care provider Kaiser Permanente and Clorox and the offices of high-tech companies like Internet radio station Pandora and, coming soon, Uber. Newly developed condominium projects with modern conveniences, a few old Victorians, and contemporary structures make up the majority of the housing in this mostly urban area. Browse our selection of Downtown Oakland homes for sale. Oakland's heritage as a port city can still be found in its communities and cuisine: Le Cheval, a Vietnamese neighborhood institution; Rio California, a Brazilian eatery located in Preservation Park; and Ichiro, a Japanese sushi bar. Downtown Oakland's entertainment scene includes the massive Paramount Theatre on Broadway and the Fox Theater on Telegraph Avenue. These former movie palaces now feature symphony performances, ballet, rock acts, and showings of classic movies. For the gallery-goers, Oakland First Fridays is a gallery walk that includes artisan works and food vendors. Some Downtown Oakland residents can walk to work, while those who work in San Francisco have access to two Bay Area Rapid Transit (BART) stations.
Redwood Heights

Redwood Heights takes its name from a former logging road that winds into the Oakland Hills. Homes range in style and include Tudor, Craftsman, and French Normandy, with some homes built in the 1920s. The Redwood Heights Neighborhood Association, one of Oakland's oldest neighborhood associations, is dedicated to preserving a sense of community through events such as block parties and barbecues. Browse our selection of Redwood Heights homes for sale.
The Redwood Heights Recreation Center is used by locals of all ages for weekend gatherings and classes including dance, cooking, and karate. Peralta Creek's 9 acres of creekside have been designated as a wildlife corridor. A neighborhood nonprofit Native Environment Watershed Transformation (NEWT) orchestrated the Peralta Creek restoration and leads creek field trips for local school groups. Redwood Regional Park offers nearly 40 miles of hiking and mountain biking trails through 1,380 acres of redwood, evergreen, and chaparral forests and open space.
Glenview

Situated in the Oakland foothills, Glenview is a small residential neighborhood consisting of single-family bungalows and traditionally-styled dwellings dating back to the 1920s and 1930s. Browse our selection of Glenview homes for sale.
Most of the businesses in Glenview are mom-and-pop shops and include a market and several salons. Highly-rated restaurants such as Bellanico and Blackberry Bistro add some gourmet flair to the Park Boulevard business district, which offers great vistas of the bay. The Glenview Neighborhood Association and Glenfriends have adopted Park Boulevard, sponsoring the Park Boulevard Median Cleanup and Planting Day on the boulevard median.
Twelve-acre Dimond Park runs along Glenview's eastern side, with oak and redwood trees populating the green space. Amenities include picnic areas, playgrounds, and a swimming pool.
Jack London

Jack London is a great place to take in Oakland's waterfront. From here, you can see the cranes at one of the busiest ports in the country; take a water taxi to Alameda; or ride a ferry to San Francisco's Ferry Building, Pier 41, AT&T Park, and Angel Island. Many of the old warehouses and former factories in this neighborhood have been converted to loft living. Queen Anne Victorians and contemporary condominiums provide potential homeowners with numerous housing options. Browse our selection of Jack London homes for sale.
Jack London Square is blocks from downtown Oakland and two Bay Area Rapid Transit (BART) lines, close to Interstates 880 and 980, and home to an Amtrak station. It is also the hub of a thriving commercial business and retail district. There's a farmers market on Sundays and special events like the yearly Eat Real Festival. Hotels, bars, restaurants, and office spaces all have a place along with this urban waterfront development. The place to catch the best jazz in the world is at Yoshi's, a restaurant and nightclub.
Joaquin Miller-Crestmont

Named for the poet of the High Sierras, the Joaquin Miller-Crestmont neighborhood is a tranquil, woodsy area in the heights of Oakland. Bordered by one of the only urban second-growth redwood groves in existence, miles of trails, and picnic grounds, the district offers plenty of activity for outdoor lovers. Homes include Mediterranean and traditional structures on large plots of land. Browse our selection of Joaquin Miller-Crestmont homes for sale.
Just minutes from the hustle and bustle of the city, the Joaquin Miller-Crestmont neighborhood offers a range of activities, many of which center on 500-acre Joaquin Miller Park. Inside the park, Sequoia Horse Arena offers trail rides, and goats graze the underbrush to help control the vegetation. A neighborhood community center can be rented for weddings, picnics, and local events. And as a plus for dog owners, the park is one of the few open-space areas that allow dogs on leash. Nearby Redwood Regional Park provides miles of hiking, running, and biking trails.
One of the premier science museums in the country, Chabot Space & Science Center, straddles the top of the ridge at Skyline Boulevard. With a focus on astronomy and space exploration, the center offers a robust calendar of family-friendly events — including Slumber with the Stars overnight adventures, hikes, and dinner-and-a-movie Supper Club social events. The area offers sweeping views of the San Francisco Bay, downtown Oakland, and the San Francisco skyline. Nearby is the Woodminster Amphitheater, a favorite place for East Bay families to take in shows year-round — including summer musicals under the stars.
Lakeshore-Upper Grand

The residential Lakeshore-Upper Grand neighborhood, cultivated by famed landscape architects Olmsted Brothers, is a sculpted terrain of winding streets following the natural contours of the land. Homes date back to the 1920s and '30s, some designed by notable Bay Area architects like Julia Morgan, Maybeck & White, and Charles McCall. Today, the neighborhood retains its period flavor, with large, romantic homes in the Italian Renaissance, Tudor, Spanish, Monterey, French provincial, and Colonial styles. Browse our selection of Lakeshore-Upper Grand homes for sale.
Lakeshore-Upper Grand is close to the Lakeshore and Grand Avenue shopping districts. Michel Bistro is a French bar and restaurant with authentic cuisine, Arizmendi Bakery offers pastries and lunch dishes, and Lin Jia Asian Kitchen features Chinese and Asian Fusion selections. Shops like Urban Indigo and Silver Moon Kids entice visitors with eclectic items for all ages.
Laurel

Laurel is a diverse neighborhood in Oakland, home to Chinese, Vietnamese, Filipino, Laotian, Cambodian, Korean, Salvadoran, Mexican, and Tongan communities who shop, eat and conduct business. Houses range from 1920s-era bungalows to newer contemporary and traditional dwellings. Browse our selection of Laurel homes for sale.
MacArthur Boulevard, the main artery in Laurel, serves as its business district, with mom-and-pop businesses and eateries. Gerardo's Restaurant serves up authentic Mexican dishes, Phnom Penh House provides Cambodian and Asian fusion entrees, and the Sequoia Diner offers breakfast and lunch. Residents demonstrate neighborhood pride at the annual Laurel Street Fair, which celebrates local food and music.
Lincoln Heights

Nestled in between the Oakmore and Redwood Heights neighborhoods, Lincoln Heights is a primarily residential neighborhood situated just up the hill from Oakland's up-and-coming, walkable Dimond neighborhood. Browse our selection of Lincoln Heights homes for sale.
Lincoln Heights sits between state Route 13 to the east and Interstate 580, convenient for those who commute via car. Just down the hill in the Dimond neighborhood, residents can access AC Transit's NL bus line, which offers Transbay service to San Francisco. The Dimond neighborhood is also home to a number of restaurants, grocery stores, shops, and a library.
Homes in the Lincoln Heights neighborhood span a variety of architectural styles, and many at higher elevations can offer impressive views.
Rockridge

Cross Alcatraz Avenue, which divides Oakland and Berkeley, and you'll find yourself in Rockridge, one of Oakland's most desirable, charming, and convenient neighborhoods. Housing in Rockridge is a combination of charming bungalows, cottages, classic Arts and Crafts dwellings, and large brown-shingle houses. Its leafy streets are mainly residential.
Rockridge offers an easy commute into San Francisco via the Bay Area Rapid Transit (BART) station, as well as access to the University of California, Berkeley Campus. The 100-year-old, four-acre campus of California College of the Arts is nearby. Food-and-drink purveyors in Rockridge provide the best from around the world and local farms. Rockridge Market Hall, which takes its cue from the French Marché, offers numerous individual food and flower shops open to the sidewalk. Dozens of restaurants, cafes, and boutiques line bustling College Avenue, Rockridge's main drag.
Sequoyah Chabot

High above downtown Oakland sits Sequoyah/Chabot, a small residential community tucked in the rolling hills amongst redwoods and oak forests. Many of the Spanish-, contemporary-, and traditional-style homes here sit on large lots of one acre or more, bordering the East Bay Regional Park and the Lake Chabot Golf Course. The neighborhood offers a semirural feel but is just minutes from everything a big city has to offer. Browse our selection of Sequoyah-Chabot homes for sale.
The neighborhood is all about access to open space: the views, parks, and miles of trails for hiking, biking, and horseback riding. Chabot Park is home to the 100-acre Oakland Zoo featuring more than 660 native and exotic animals, including a rainforest and an African savannah. The zoo also has a ride area that features a train that circles the park and hosts events year-round, including overnight-stay educational programs, the Clorox Wildlife Theater, and ZooLights during the holidays.
The Dunsmuir House is a 37-room Neoclassical Revival mansion, built in 1889 by Alexander Dunsmuir, that offers historical tours and rentals for weddings and special events. The 50-acre grounds are open year-round, free of charge for picnicking and hiking. Friends of Knowland Park is actively engaged in protecting the preserve's spectacular scenery, including panoramic views of the bay and the San Francisco skyline.
Skyline Hillcrest Estates

The Skyline/Hillcrest Estates neighborhood is small in footprint and population, encompassing nearly one square mile with nearly 900 residents, but its perch on top of the Oakland Hills and surrounding green space make for scenic views and areas for locals to relax and play. Bordered by the Leona Canyon Regional Open Space, Leona Heights Park, and Redwood Regional Park, the neighborhood's large, contemporary homes offer amenities like patios and tennis courts. Browse our selection of Skyline/Hillcrest Estate homes for sale.
Skyline/Hillcrest Estates offers locals and visitors a wealth of parks and trails for picnicking and hiking. Joaquin Miller Park, Berkeley Fire Trails, and Robert Sibley Volcanic Regional Preserve are picturesque landscapes and challenging walks for you and your canine friends. Venture out of the neighborhood and you'll enter the larger environs of Montclair, including its community parks and recreation and close proximity to commuting options — including the Bay Area Rapid Transit (BART) casual carpool, and AC Transit bus lines.
Temescal

Temescal is one of the oldest neighborhoods in North Oakland, named for Temescal Creek. California bungalows and stucco single-family homes comprise the bulk of homes for sale in Temescal, which is popular with first-time Oakland homebuyers.
Temescal's main thoroughfare is Telegraph Avenue, which runs from the MacArthur Bay Area Rapid Transit (BART) station to 55th Street. The highly walkable neighborhood has the feel of an urban village. Feeding the foodies of Temescal are Bakesale Betty's, the wood-fired ovens of Pizzaiolo, and authentic Mexican restaurant Doña Tomás. Homeroom, a mac-and-cheese restaurant, can be found on 40th Street. The Temescal Farmers' Market provides fresh produce, and food stands serve chai, crepes, and Blue Bottle Coffee. Wine lovers rave about The Wine Mine's weekly tastings, and wine bar Marc 49 serves patrons on its off-street patio.
Arts and culture make this neighborhood lively. The annual Temescal Street Fair showcases arts, crafts, and music by residents of all ages. Galleries feature up-and-coming young artists. The Temescal Arts Center hosts dance and musical performances and offers classes in everything from yoga to tai chi. Studio One Art Center, run by Oakland's Parks & Recreation Department, offers affordable art, photography, and bookmaking material as well as yoga classes taught by working professionals. The Temescal Library, opened in 1918 with Andrew Carnegie's foundation funds, is the only Oakland branch to offer books in Amharic and Tigrinya languages.
Upper Rockridge
Upper Rockridge is a neighborhood of older, Mediterranean-style estates, midcentury modern homes, contemporary houses, and new, custom showplaces. Large lawns, terraced gardens, stunning views of the bay and San Francisco skyline, and roads that follow the rolling hills all define this affluent Oakland community. Browse our selection of Upper Rockridge homes for sale.
A local grocery, the Village Market, serves the neighborhood, while more extensive shopping and dining options await in nearby Rockridge, where residents can commute to San Francisco via the Bay Area Rapid Transit (BART) station.
West Oakland
Perhaps no other Oakland neighborhood exemplifies the city's changing face like West Oakland, a working-class enclave that has become increasingly popular with East Bay homebuyers thanks to its historic homes, relative affordability, and convenience to public transportation and jobs. Browse our selection of West Oakland homes for sale.
Oakland's westernmost neighborhood benefits greatly from its BART station, through which all San Francisco-bound trains pass. Via BART, neighborhood residents can hop a train and commute to either downtown San Francisco or downtown Oakland in less than 10 minutes. AC Transit bus lines also offer both weekday and weekend service to San Francisco, and the neighborhood is just minutes from the Bay Bridge toll plaza and three key local freeways.
In an era of quickly rising Alameda County home prices, buyers have recognized West Oakland's potential, and the community draws both young workers seeking convenience and flippers who are renovating its charming, historic homes, many of which were built during the Victorian era. New condominiums have sprung up along West Grand Avenue, a primary street that connects Interstate 80 with downtown Oakland, as well as alongside the historic, long vacant 16th Street Train Station, which developers plan to renovate into a dining and entertainment venue. In addition, newly constructed single-family homes have appeared in place of former industrial structures.
The walking trail in the middle of Mandela Parkway, one of the neighborhood's central north-south arteries, is popular with locals, as are the area's half-dozen parks. Coffee shops are an increasingly common sight, including Kilovolt Coffee and Milky Way Coffee on Mandela, while soul-food institution Brown Sugar Kitchen is a go-to weekend brunch spot. Local art collective American Steel Studios, which offers classes in a wide variety of mediums, is responsible for the one-of-a-kind sculptures near the intersection of Mandela and West Grand, while The Crucible sponsors workshops in fire arts, from welding and glass-blowing to ceramics and jewelry making.

So, are you ready to find your dream home in Oakland, CA? The Motley Team, East Bay's premier luxury real estate team, is ready to help you find the perfect house to suit your needs.