Berkeley Real Estate
Home to one of the most prestigious universities in the country, Berkeley offers intellectual and cultural stimulation from its campus, which is within walking distance of downtown. Many neighborhoods in Berkeley, CA, were established in the 1920s, with quiet, tree-lined streets, brown-shingled homes, and lushly landscaped yards. In Thousand Oaks, the original developers preserved ancient oak trees and left rock outcroppings intact. Elmwood, with its thriving business district, remains one of the city's most sought-after neighborhoods. In Claremont, the Claremont Hotel, a gleaming white Victorian-era landmark, has provided generations of Bay Area residents with a luxurious getaway.
Berkeley has long been at the forefront of culinary innovation. Berkeley's most famous restaurant, Chez Panisse, opened its doors in 1971. Locals flock to the original Peet's Coffee & Tea location. For residents who like to savor their meals at home, small retail districts sprinkled throughout Berkeley allow them to shop like Europeans, going from store to store to purchase everything they need. Those in a hurry can always visit major grocery stores nearby.
Neighborhood green spaces abound throughout Berkeley, from small community gardens to the Berkeley Rose Garden, which boasts more than 3,000 rose bushes. The gem of the area is the 2,000-acre Tilden Regional Park, with its miles of biking and hiking trails and the naturally landscaped swimming hole at Lake Anza.
Living in Berkeley, California is a once-in-a-lifetime opportunity. Contact The Motley Team today to learn more about
homes for sale in Berkeley
.
Main Areas in Berkeley
Central Berkeley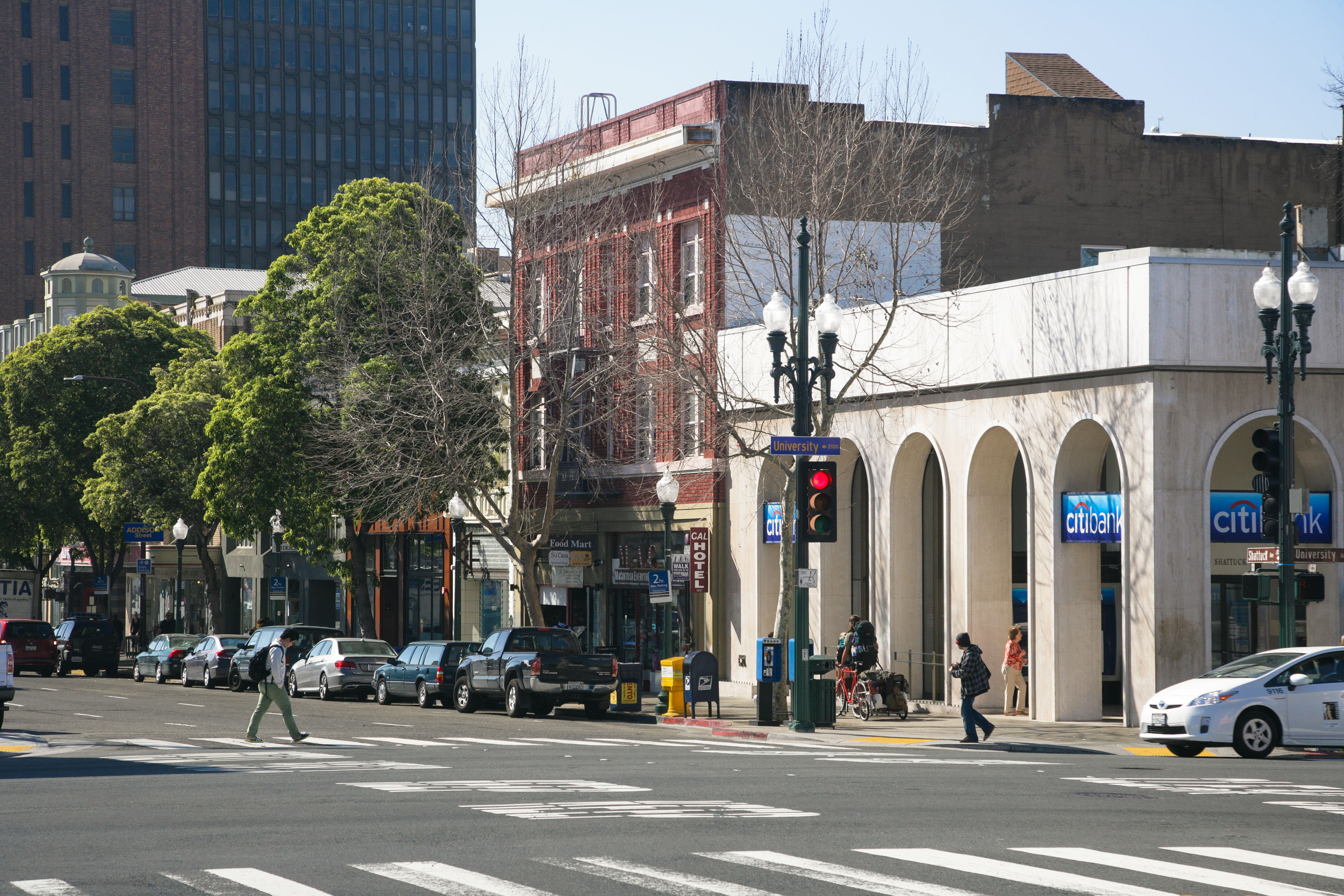 With easy access to public transportation and Interstate 80 and many amenities within walking distance, Central Berkeley is one of the city's most convenient neighborhoods. Browse our selection of Central Berkeley homes for sale.
Central Berkeley residents are a short stroll away from the North Berkeley BART station on Sacramento Street or the Downtown Berkeley BART station on Shattuck Avenue, convenient for those who work in San Francisco. University Avenue, the neighborhood's main east-to-west thoroughfare, leads directly to Interstate 80. University Avenue is also home to numerous restaurants -- serving all types of cuisine -- as well as other businesses.
Homes in Central Berkeley
sit on quiet, tree-lined streets and range from modest bungalows and cottages to larger, custom-built properties. Families enjoy Strawberry Creek Park, which offers a playground, tennis and basketball courts, soccer fields, and a picnic area. Other outdoor recreation spots in the neighborhood include Presentation Park, Cedar-Rose Park, and Berkeley Way Mini-Park.
Downtown Berkeley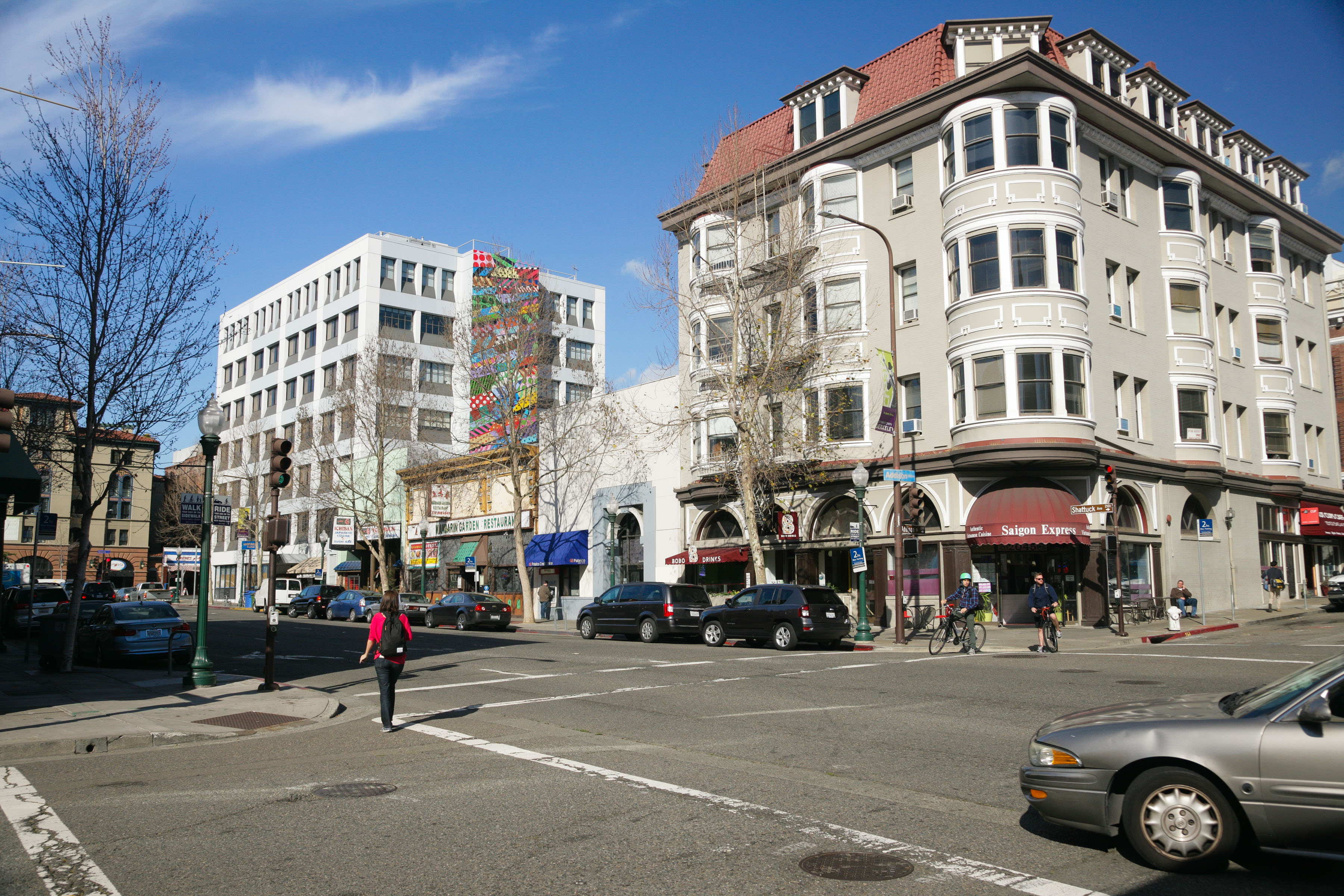 Although compact, Downtown Berkeley has fewer single-family homes for sale compared with other neighborhoods in the city, those lucky enough to
buy a home in Downtown Berkeley
will find themselves living in perhaps the city's most walkable enclave. Browse our listings of condos and Downtown Berkeley homes for sale.
Busy Shattuck Avenue is where most of the action in Downtown Berkeley happens. Residents have access to virtually any type of cuisine from around the globe, three movie theaters, fitness facilities, and several bars and nightclubs. Stores surrounding Shattuck Avenue specialize in a wide variety of items, including musical instruments, board games, vintage clothing, and picture frames. San Francisco and other parts of the Bay Area are easily accessible via the neighborhood's downtown Berkeley BART station. University of California, Berkeley, is a short stroll away.
Downtown Berkeley is home to the city's administration offices, as well as Berkeley High School, the city's lone public high school and a well-known local landmark. The campus is home to the Berkeley Community Theatre, a 3,500-seat art deco-style theater that has hosted many big-name musical acts over the years. The Berkeley Public Library on Kittredge Street has also achieved official landmark status.
Elmwood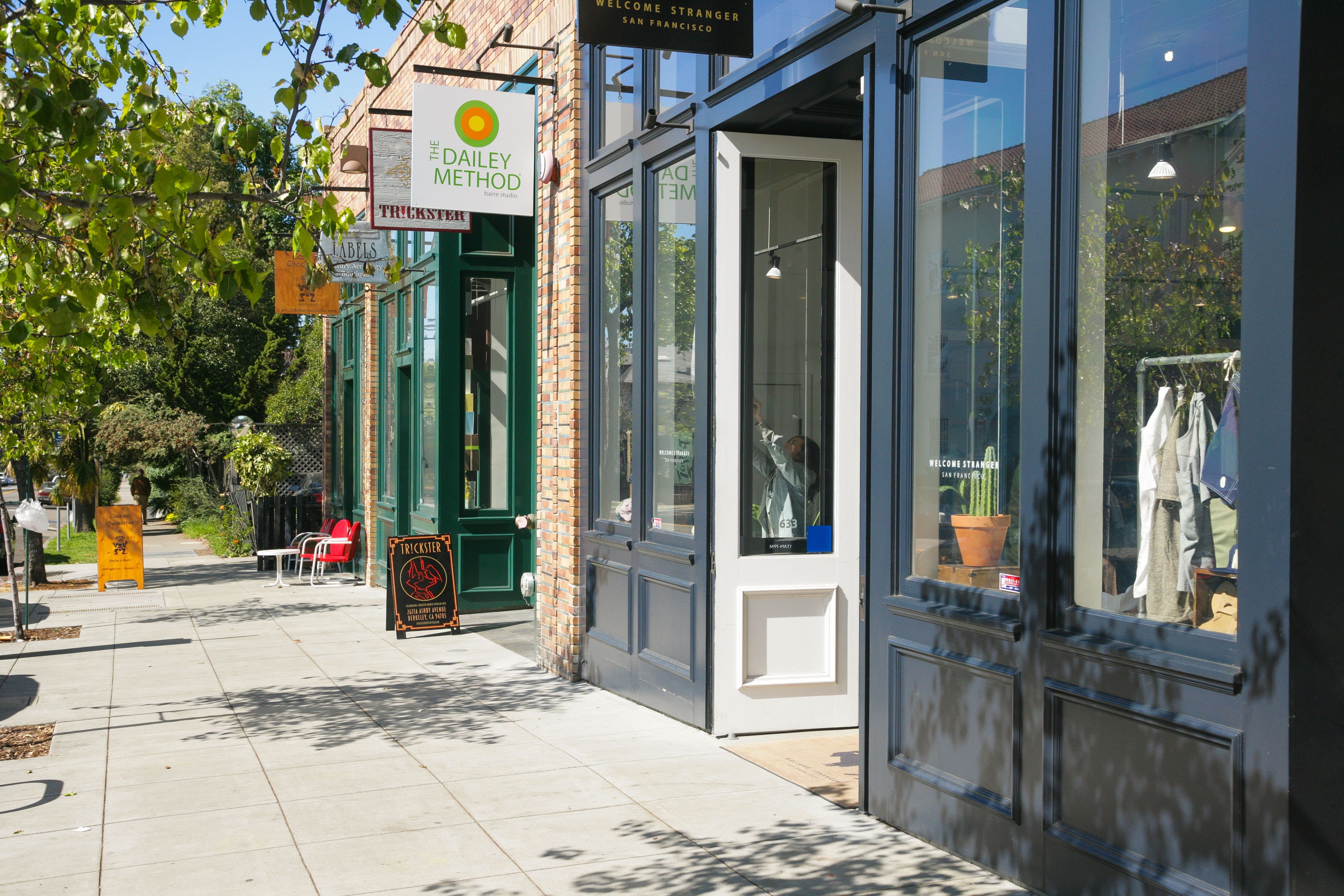 The much sought-after neighborhood of Elmwood has a rich architectural history. Early 20th-century houses, estates, and some of the more notable homes designed by prominent turn-of-the-century Bay Area architect Julia Morgan can be found in this neighborhood. Browse our selection of
Elmwood homes for sale
.
The local shopping district centered on the intersection of College and Ashby Avenues is a bustling hive of activity, featuring an array of gourmet eateries, boutique shops, cafes, and restaurants. Residents of Elmwood also enjoy an easy walk to public transportation, a library, and parks. For an only-in-Elmwood, experience, visit Mrs. Dalloway's, a shop that combines a bookstore and garden supplies, or Rialto Cinemas Elmwood, a Berkeley city landmark that houses a three-screen cinema.
In terms of hyperlocal culture, Julia Morgan Theatre offers camps and classes as well as performances of music, dance, and theater throughout the year.
Gourmet Ghetto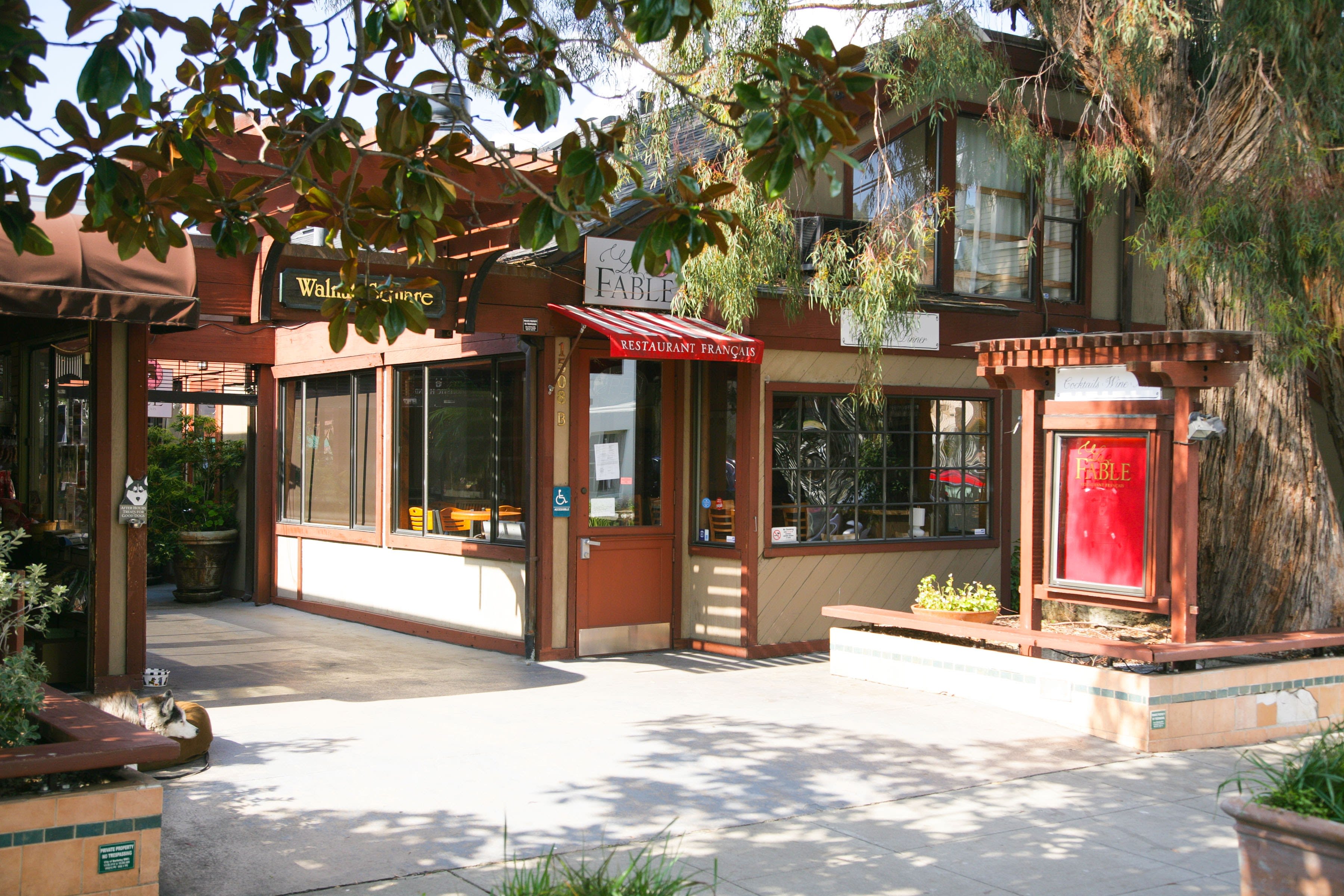 Berkeley's renowned Gourmet Ghetto neighborhood wears its nickname proudly. The strip of Shattuck Avenue between Cedar and Vine streets is anchored by Alice Waters' world-famous Chez Panisse Restaurant & Café, The Cheese Board Collective, and the original Peet's Coffee & Tea, which have been neighborhood icons for decades. Simply put, the area is a laid-back mecca for those who want to eat and drink well. Browse our selection of Gourmet Ghetto Berkeley homes for sale. Our professional team of Berkeley real estate agents would be happy to tell you anything you'd like to know about this community.
Homes range from well-preserved Victorians and traditional, large Berkeley brown-shingled houses to lovingly preserved Craftsman and bungalows. The architecture is old and varied enough to be included on neighborhood walking tours conducted by the Berkeley Architectural Heritage Association. Proximity to the nearby Downtown Berkeley BART Station and the central shopping district makes the neighborhood highly walkable.
Live Oak Park provides basketball courts, picnic areas, and a small, open-air theater that hosts children's plays and Shakespeare productions. On Walnut Street, Berkeley Art Center offers a lively series of exhibitions, art openings, and lectures.
North Berkeley Hills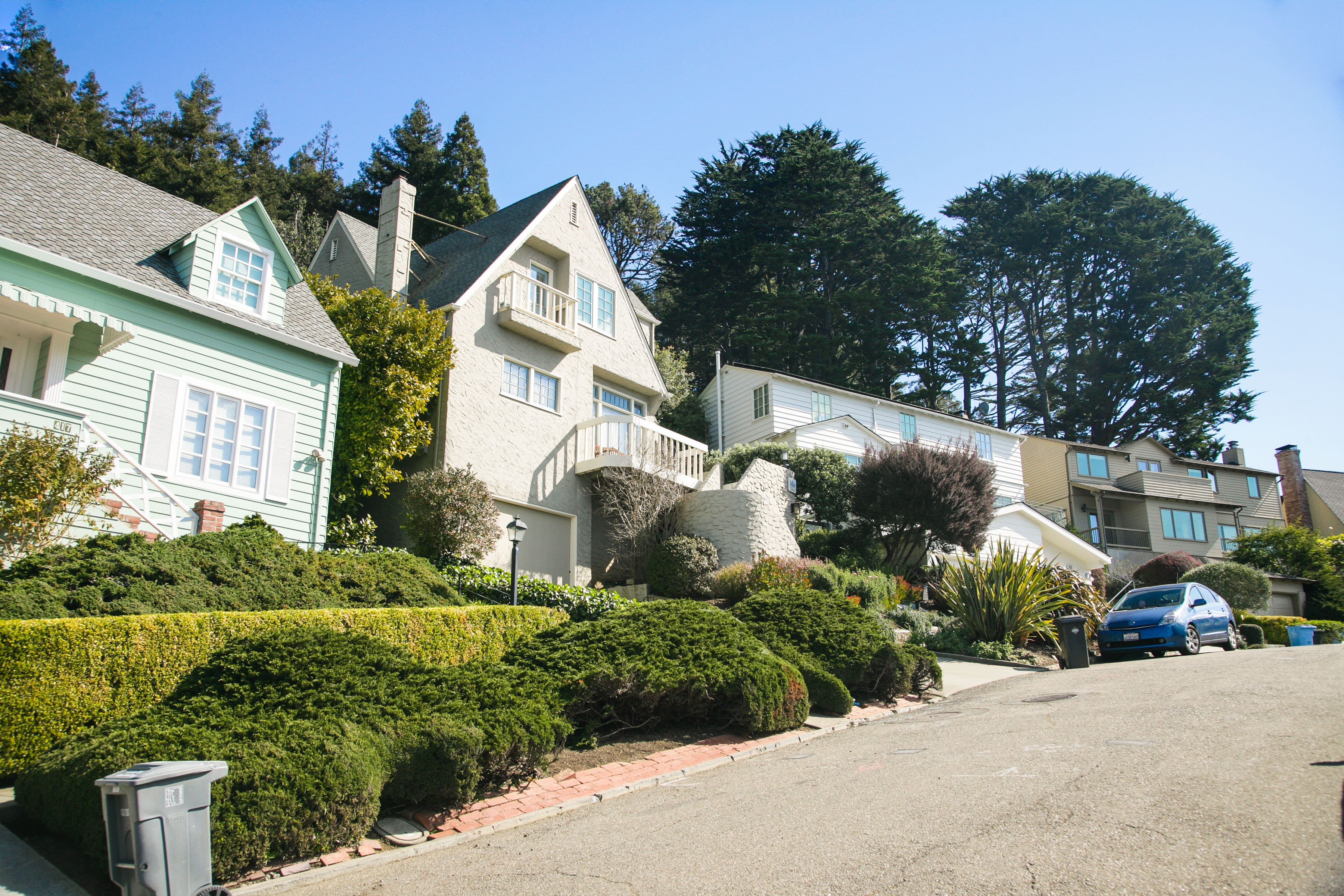 Berkeley's renowned Gourmet Ghetto neighborhood wears its nickname proudly. The strip of Shattuck Avenue between C" />

Perched above the city and offering some of the most sweeping panoramic views in the entire Bay Area, the quiet, residential North Berkeley Hills neighborhood offers peace and solitude not far from the hustle and bustle of the city's more urban areas. Begin browsing our selection of North Berkeley Hills homes for sale.
Homes in the neighborhood are built in a variety of styles and feature manicured lawns and lushly landscaped gardens. Some homes are hidden from the road by large trees, while others offer views of the San Francisco and Oakland skylines, the Golden Gate Bridge, Alcatraz Island, and Mount Tamalpais. North Berkeley Hills backs up against Tilden Regional Park, which offers numerous opportunities for outdoor recreation all year long.
Some residents in the southern part of North Berkeley Hills are within walking distance from the thriving retail district on Solano Avenue, though those who live at higher elevations will likely need to drive to most places. Alameda-Contra Costa Transit District bus lines that serve the neighborhood drop residents at the Downtown Berkeley BART station for a quick commute to downtown San Francisco. Click here to see
North Berkeley Hills homes for sale
.
Northbrae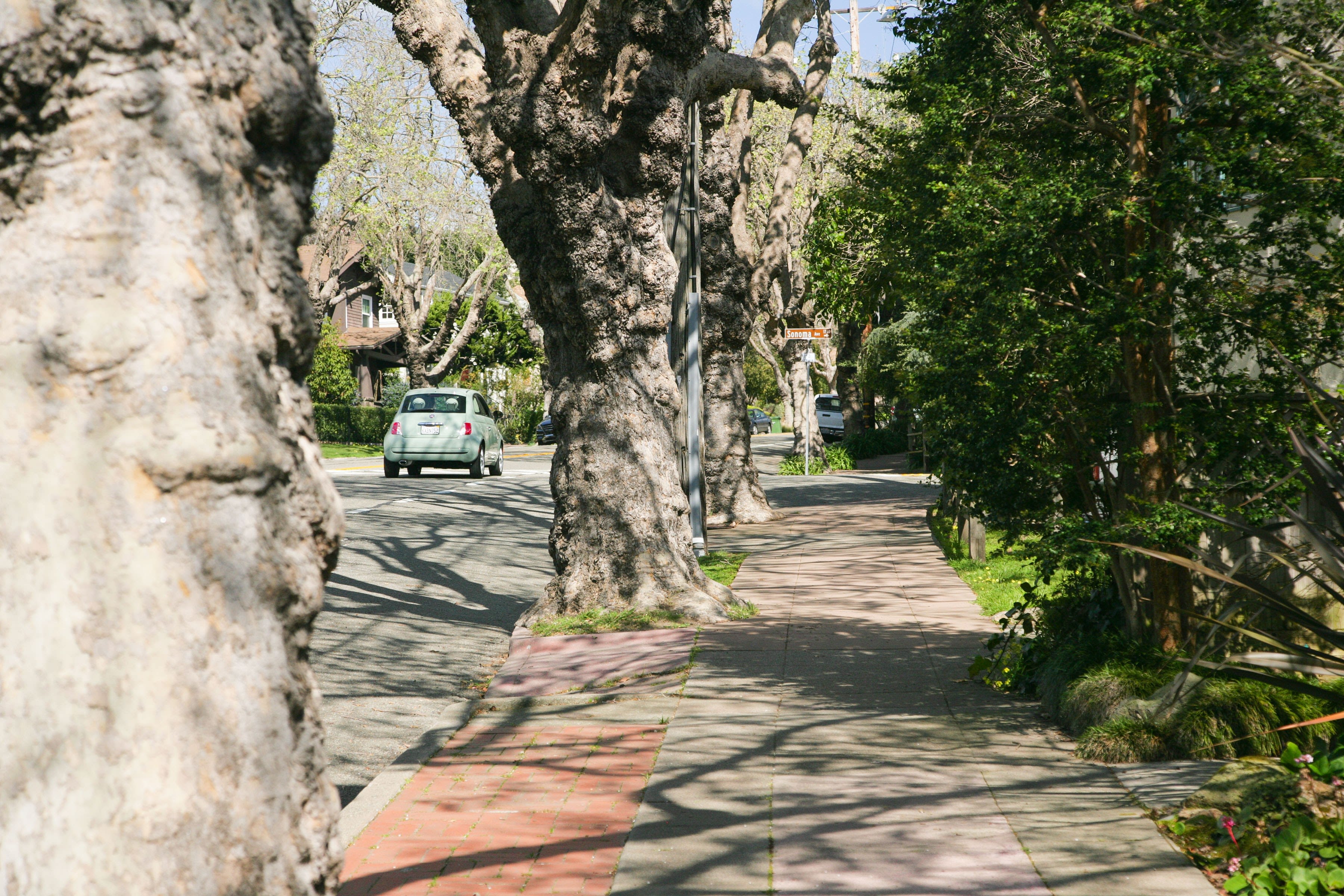 Centered on Hopkins Street at the foot of the Berkeley Hills, this quiet, relaxed residential community consists of charming bungalows, California Craftsman homes, and English Tudors. Indian Rock, the largest example of the Northbrae rhyolite outcroppings in the neighborhood, is popular with climbers honing their skills. Browse our selection of Northbrae homes for sale.
Nearby green spaces include three-acre Cedar-Rose Park and Terrace Park. For those working on home horticulture projects, Berkeley Horticultural Nursery on McGee Avenue and Westbrae Nursery on Gilman Street offer advice, seeds, plants, and gardening tools.
Northbrae's two-block long retail district may be small, but it is crammed with gourmet-food purveyors. It's possible to shop here like a European, going from store to store, purchasing everything you need for the week's dinner. Monterey Market (an institution for more than 50 years), Monterey Fish Market, Magnani Poultry, and Hopkins Street Bakery make Northbrae into a mecca for food lovers. Outdoor cafe Espresso Roma offers the opportunity to enjoy a latte in the glorious weather.
Northbrae is within walking distance to the North Berkeley BART and the North Branch of the Berkeley Public Library. Designed by noted Bay Area architect Julia Morgan in the early 20th century, the latter building is one of the most stunning civic structures in Berkeley.
South Berkeley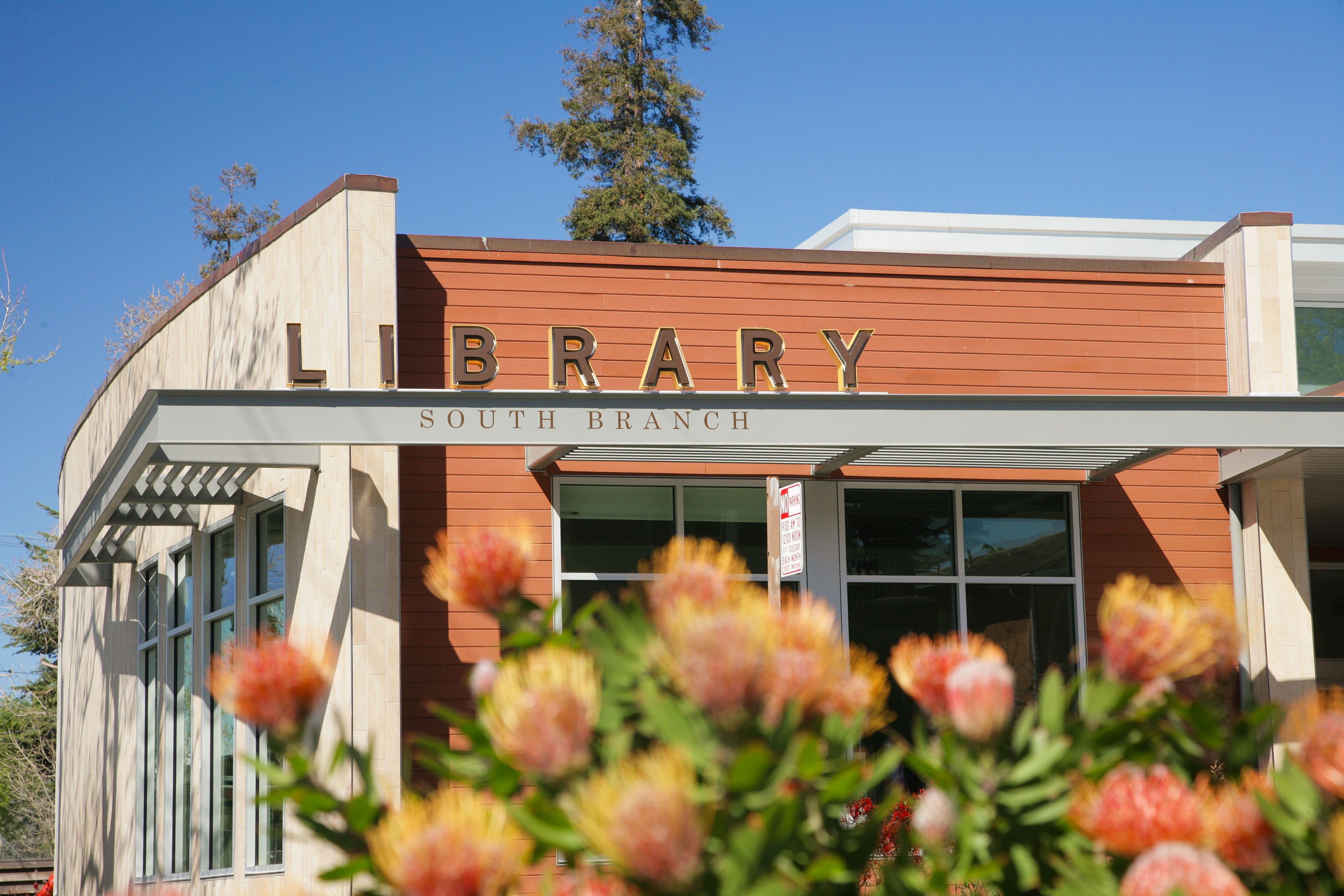 You can't get closer to the University of California, Berkeley campus than South Berkeley, the neighborhood originally developed in the 1860s by the school's predecessor, the College of California. The latter institution may be long gone, but the large, spacious, brown-shingled homes along Allston, Bancroft, Channing, and Dwight ways remain. Densely populated, the neighborhood contains some of the city's oldest homes. Browse our selection of South Berkeley homes for sale.
South Berkeley is a mix of students, longtime residents, businesses, and homes. The major thoroughfares are Telegraph Avenue, Bancroft Way, and Alcatraz Avenue, where street vendors, bookstores, record shops, and inexpensive eateries cater to students. Nightlife is abundant, thanks to the proximity to campus, Zellerbach Hall, and Downtown Berkeley.
Both the Ashby and Downtown Berkeley BART stations serve the neighborhood, as do a number of Alameda-Contra Costa Transit buses, making it a snap to get to downtown San Francisco, local airports, sports stadiums, and other locations in the Bay Area.
Thousand Oaks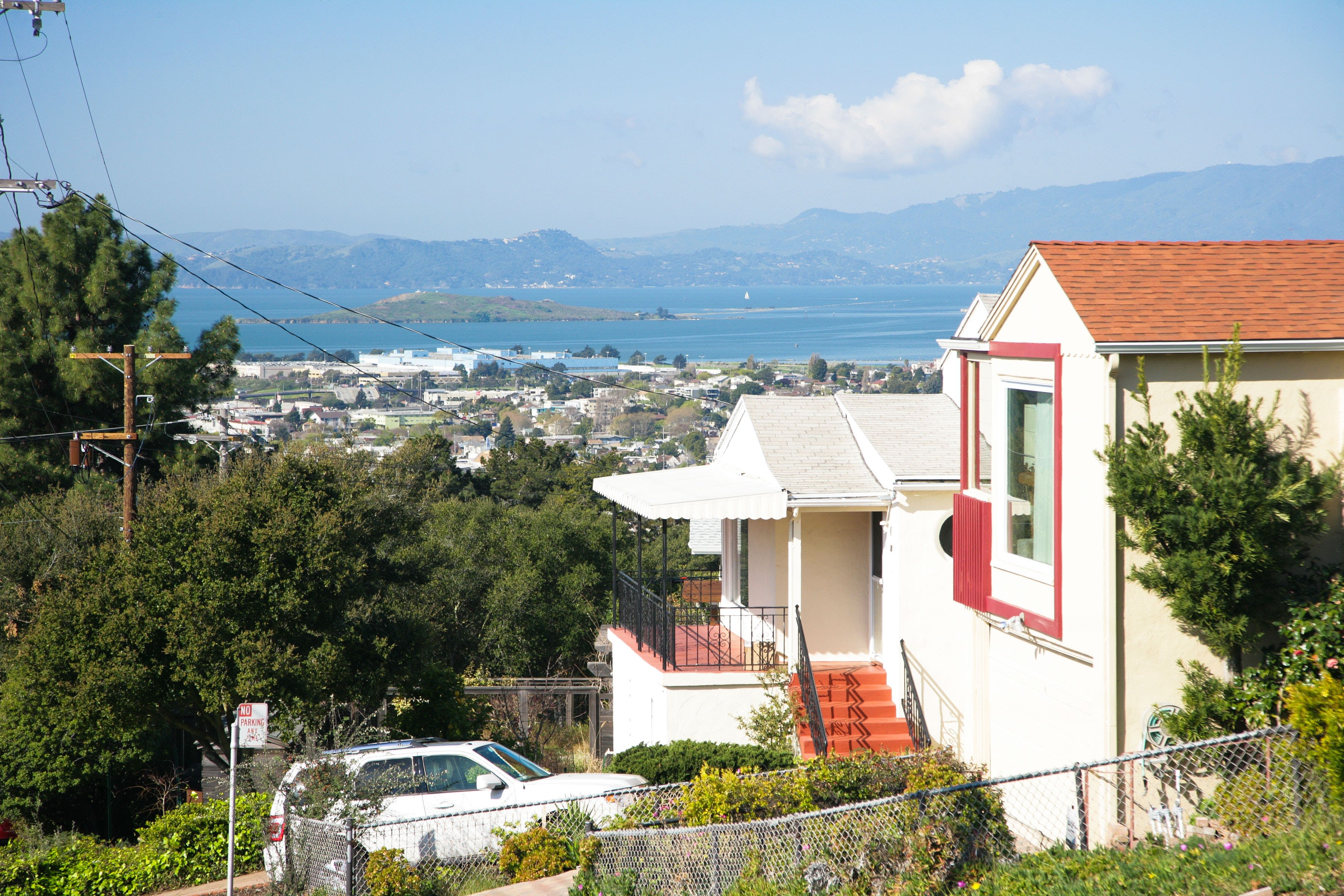 Tucked in between the Berkeley Hills, Kensington, and the vibrant Solano Avenue shopping district, Berkeley's Thousand Oaks neighborhood is a family-friendly enclave that boasts a great suburban feel close to the big city. Browse our selection of Thousand Oaks homes for sale.
Natural rock outcroppings are a notable feature of this neighborhood, with many such formations incorporated into backyards, driveways, and even interior home design. The original developers in Thousand Oaks were sensitive to the natural landscape and laid out the streets to follow the gently curving topography. Ancient oaks were preserved, and the largest rock was donated by the developer and turned into a public park. Today, Great Stone Face Park in the hills is still popular with rock climbers practicing their skills.
Public transportation in Thousand Oaks is great. Several Alameda-Contra Costa Transit Transbay buses whisk commuters from Solano Avenue to San Francisco. Residents in Thousand Oaks have two BART stations to choose from: both the El Cerrito Plaza and North Berkeley BART stations are just a few miles away.
Large yards, safe streets, and a quiet vibe make Thousand Oaks popular with families.
West Berkeley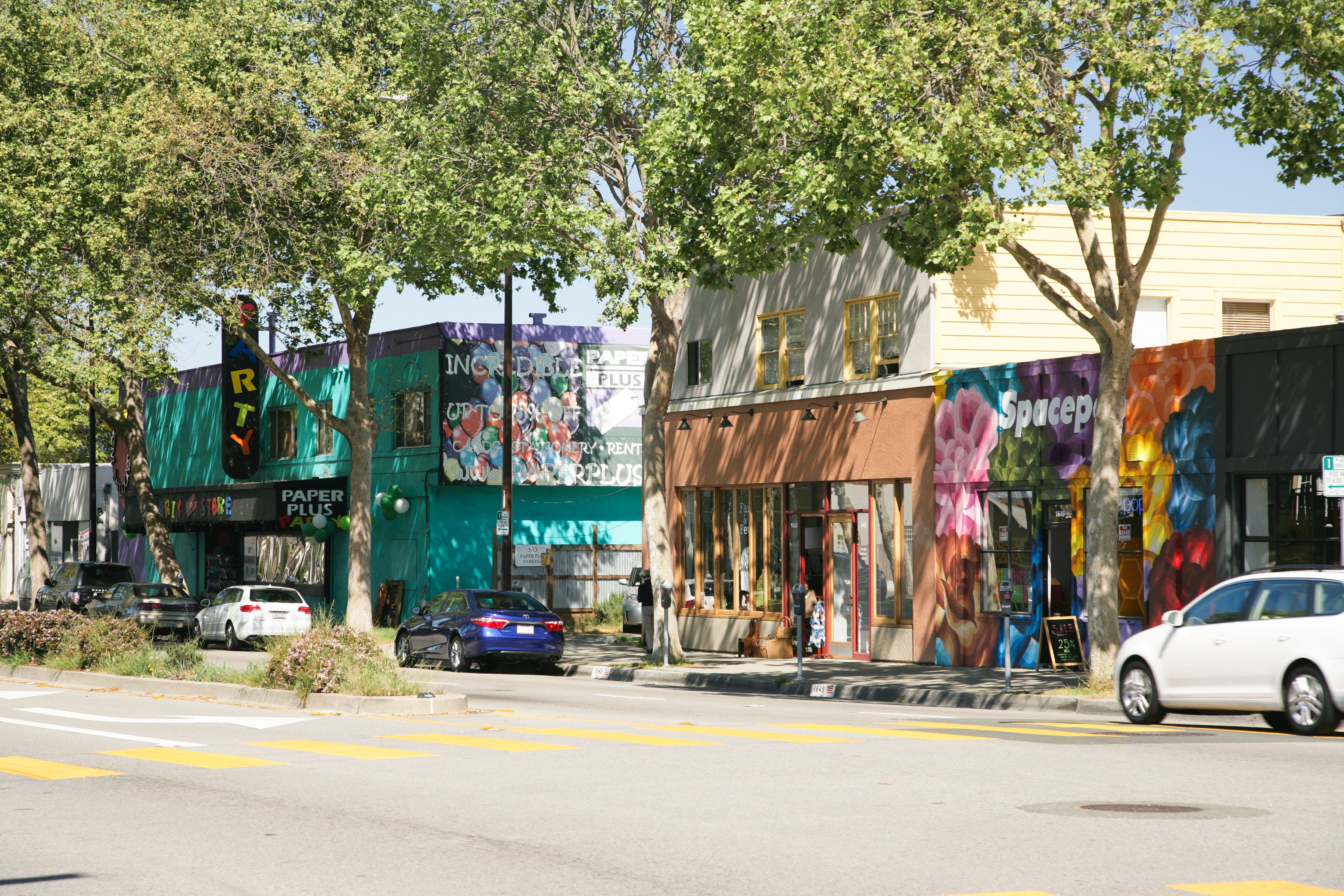 West of San Pablo Avenue and east of the San Francisco Bay sits West Berkeley. Previously known as Ocean View, West Berkeley sits at an average elevation of just 23 feet. Begin browsing our listings of West Berkeley homes for sale.
Historically an industrial area, West Berkeley now has plenty of commerce, anchored by the 4th Street district. Visitors to this part of the neighborhood will find dozens of shops, cafes, and restaurants, including Spenger's Fresh Fish Grotto, a designated city landmark. A number of businesses and eateries also line the Gilman Street corridor, including a Whole Foods Market and Pyramid Alehouse Brewery & Restaurant.
West Berkeley is home to the Berkeley Marina, McLaughlin Eastshore State Park, and horse-racing facility Golden Gate Fields -- all great places to enjoy a sunny afternoon. Interstate 80 offers a direct drive into San Francisco, and two local Alameda-Contra Costa Transit buses offer Transbay service. The Delaware Street Historic District has many quaint houses and several city landmarks.